October 2006
Oh my goodness, I look so young then...and skinny.
Oh those were the days.
Anyway-- moving on...
Of course, I replied with a Heck Yes!
(and I gushed at such a sweet gesture.)
Be sure to check this lovely lady out!
She is simply fantastic!
She has a huge heart and the cutest bitty baby girl, Kenley!
Oh and did I mention that she opened her own Etsy?
She makes the cutest hair accessories!
Go check it out!
Now let's get down to business...
The Rules
1. Follow your hosts.
They will be #1 and # 2 on the list.
I try to always follow back, but just to make it easier be sure to give me a shout so that I know you stopped by! :D
2. Link up your blog's main page.
3. Try to stop by at least 3 other blogs.
Stop by and say Heyyyyy. We all love meeting new people, right?
And who knows- you might make a new friend!
4. Grab a button!
Share the love!
We'd love to make this a huge success.
The more people that know about it, the more people you could get to know!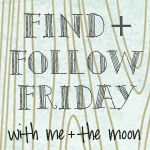 5. Tweet about it!
Now go on...get your hop on!